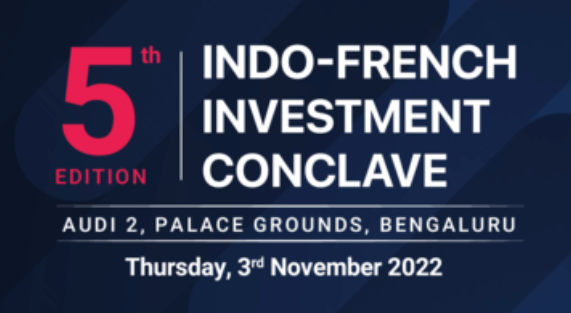 Paris, November 2022 – Axelor, as one of the official Gold Sponsors, will be at the Indo-French Investment Conclave (5th Edition) in Bangalore on Thursday, November 3rd 2022 at Palace Grounds.
This conclave is the most prestigious flagship event of IFCCI (Indo-French Chamber of Commerce & Industry) and is going to be the exclusive France country session, where Axelor will be able to discuss opportunities and showcase its Open Source solutions with other companies and professionals that will be present at the event. Axelor has also been selected to a fireside chat session, through which, Hortense FANOUILLAIRE (Director Global Business Development of Axelor) will share investment and growth opportunities of Axelor in Karnataka and in the Indian market in general. Here below is a link to the event, presenting a more detailed program and some main highlights of the conference. For more detailed information about this conference :
About IFCCI:
The Indo-French Chamber of Commerce and Industry has been serving the interests of the French business community in India for more than 45 years. IFCCI belongs to a worldwide network of 126 French Chambers (CCIFI) in 96 countries with over 37,000 companies. With close to 650 Indian and French member companies spread across India and France and a total network of more than 6,500 individual members, IFCCI is the most active bilateral Chamber of India. IFCCI has five offices in Mumbai, New Delhi, Bengaluru, Chennai & Pune. IFCCI provides versatile services ranging from Business Promotion, Advocacy, Business Centres & Support, B2B & B2G Meetings, HR & Recruitment services, Events, Strategic Communication Support & access to Global Online Directory.
About Axelor: Axelor is the publisher of the hybrid Open Source platform dedicated to business applications that combines a Low-code/No-code BPM with more than thirty business applications: ERP, CRM, sales management, HR, Inventory, Production, Project management, Accounting… The platform is used in several sectors of activity: Manufacturing Industries, Ministries, Service companies, Consulting firms, Training organisations and more… The integrated BPM and the low-code platform can model any type of business process and generate a functional application that integrates with existing with the library of business apps.