Business Project Management
Get the power of 
Axelor

and its ecosystem to manage your projects in business mode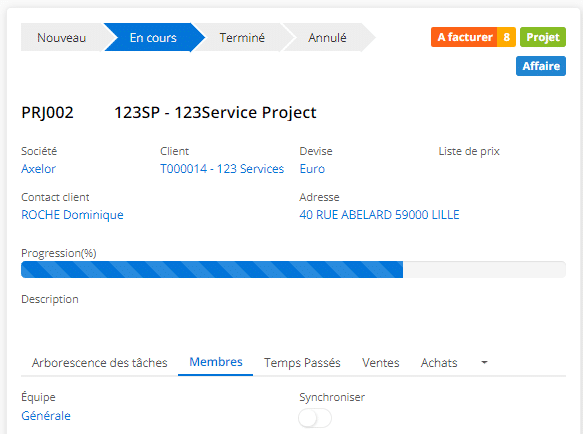 Optimize your business management
Plan your resources to avoid delays and respond to demand as effectively as possible. Optimal flexibility will make all the difference.
Control all your projects as closely as possible with day-to-day management thanks to :
the creation and updating of schedules

a customization of your dashboards

alerts that can be configured by project and user
Anticipate and control
Once your tools have been configured and your resources allocated, Axelor will automatically calculate the progress of the project and alert you in case of delays. Similarly, you can see at a glance if you are ahead of schedule and improve customer satisfaction.
Plan tasks
Quickly create new tasks, unlimited trees, indicate the priority level and assign them to your teams according to their availability. You can also optimize the allocation according to the skills of each of your employees thanks to the information provided in the Employees application.
Adapt your management easily to meet all situations. Do you already use a project management method? Axelor will be able to be integrated into it.
The Business project management application is intended for companies managing projects as well as businesses and having very specific needs. Axelor not only allows you to set up the system according to your needs, but also to go even further with Axelor Platform.application de gestion à l'affaire s'adresse aux entreprises gérant des projets comme des affaires et ayant des besoins très spécifiques. Axelor vous permet non seulement un paramétrage poussé en fonction de vos besoins, mais également d'aller encore plus loin grâce à Axelor Platform.
Ventilate your financial efforts to optimize your resources. Purchases of supplies, allocation of additional staff, recruitment plan or staff reduction, you will be able to easily visualize your needs. Plan, control and optimize the management of your business while reducing the effort invested.
Follow very closely the progress of all your business
The application allows you to monitor the progress of each task, as well as their progress thanks to automatic calculation.
Get a precise follow-up of the actions to be carried out by user from the schedules and timelines of your business. Be automatically alerted as soon as a task is completed.
Thanks to the timesheet application, track the time spent on your business, and automatically calculate the costs generated by your projects to analyze their profitability.
See the planning of your business in a few clicks
Scheduling your tasks and resources, managed directly from the application, is made easier by the Gantt views integrated into the application. Optimize your performance with agile methods and Kanban views.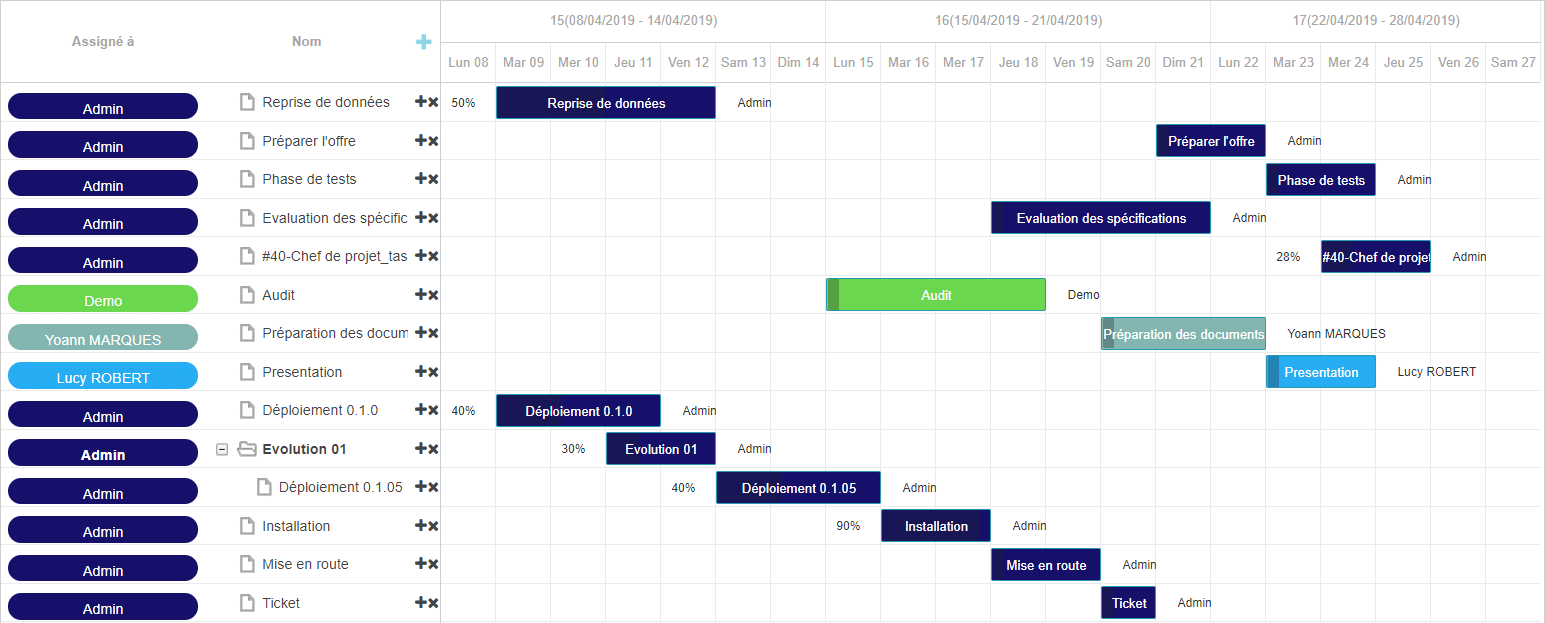 Easily invoice your business and calculate profitability
Automated invoicing
Turn your projects into business with a single click and choose fixed-price or time-based invoicing: the invoicing of your business and all the elements associated with it is fully automated.
Tracking profitability
You can view on each of your cases the expenses incurred, costs and time spent and future and compare with the costs and time planned. Access a complete overview of the profitability of your business and the margins made.