Join our team to create a better tomorrow for our customers!
thumb_up_alt
Customer satisfaction
We are passionate about delivering exceptional customer experiences and make customer satisfaction our number 1 priority.
handshake
Team spirit
We believe in the power of teamwork as we take advantage of each team member's strengths to achieve our goals.
emoji_events
Achievement
We strive to empower our employees to reach their full potential and find fulfillment knowing that their success is our success.
diversity_1
Open-mindedness
We foster a culture of open-mindedness and innovation, where new ideas are encouraged and explored.
Be a part of our team, no matter where you call home.
Discover our offices around the world.
Don't worry, be happy
to work with us!
Since 2017, Axelor is Happy at Work certified.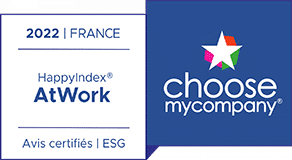 "Joining Axelor means evolving in a technological and innovation-oriented environment dedicated to modern business management!"
«I particularly appreciate the autonomy and trust I am given, and the variety of projects I work on.»
Charlotte
Talent Acquisition Specialist
«Being a part of a growing company at the forefront of innovation contributes to the feeling of being involved in something bigger than yourself.»
«The highly advanced open-source ERP development platform gives me the opportunity to use modern and innovative technologies.»
«What I like most about Axelor is the general spirit of the company. The values of benevolence and mutual aid are important to me. It's great to work at Axelor.»
Gauthier
Sales Development Representative