CODESOFT

-SENTINEL

connector
Easily generate all

your barcode labels

and control printing directly from Axelor
Axelor interfaces with the CODESOFT and SENTINEL labelling solutions from TEKLYNX, the world leader in barcode and RFID software.
From the ERP, you can define all your label frames for your shipping, stock tracking and production needs and launch your prints on the main printers on the market.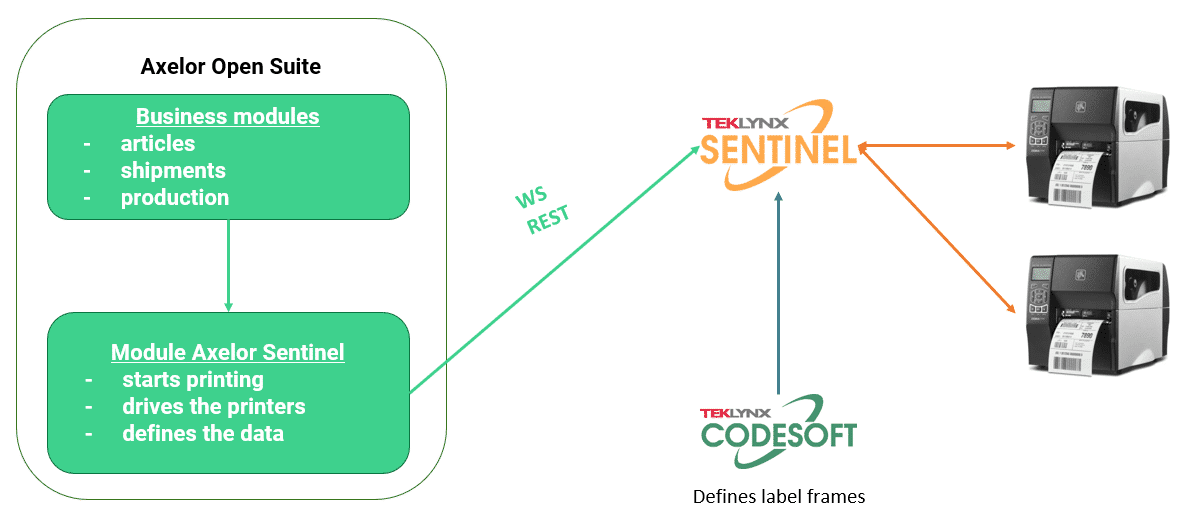 Customise your barcode labels by creating different frames
The interface with CODESOFT software allows you to create customised label frames, defining all the parameters that should appear on the labels: batch number, serial number, product description, stock location, etc. You can thus call up any data from the ERP.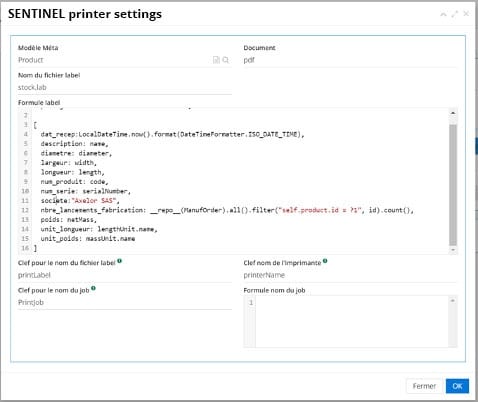 CODESOFT has a library of more than 100 barcode symbologies, which allows you to handle a wide variety of situations, whatever the industry and need:
Labelling for shipping goods

Labelling for warehouse management

Labelling of finished products in production

Labelling to meet regulatory standards
Easily set up the printing of all your labels
The SENTINEL connector allows you to automate the printing process of your labels (the communication between Axelor and SENTINEL is done via RESTful API functionality of SENTINEL.)
The software can handle different label frames per printer, and allows you to start printing. The advantage of SENTINEL is that you have a single solution that connects to most printers on the market, without having to create interfaces to each printer brand.

You define the access to the printers by the users, who can launch all their label prints directly from the workshop or the warehouse, even when they are on the move using the Axelor mobile application.
Clicking "print" from Axelor ERP system drops a flat file (.txt, .csv, .xml, etc.) into a SENTINEL watch folder. SENTINEL reads the file and automatically prints accurate labels. You can follow the prints launched and supervise the pending jobs without having to physically interact with the printer.