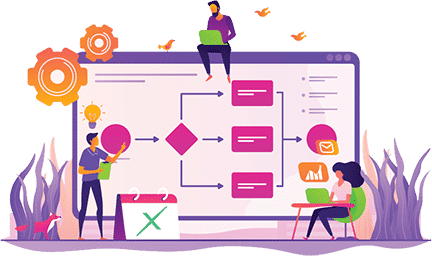 A BPM tool is also what we call a business process management solution. This solution can take a company to the next level in terms of quality and performance, but the right BPM software must be chosen to do so.
First of all, what is BPM?
BPM is the Business Processes Management. A business process is a series of human or automated actions carried out in order to obtain a determined result. For example, following up on internal purchase requests or customer orders. A BPM tool is based on 4 pillars:
business process modeling

automation

monitoring

continuous improvement
The choice of a BPM solution is crucial because it impacts an organization at 3 levels: people, information system, and information flows.
Discover the points to take into account for an optimal and reasoned choice.
You can distinguish between essential and optional, but nonetheless, relevant criteria.
Finally, if you are still hesitating to adopt a BPM solution, this article also aims to demonstrate the benefits for your organization.
The BPM tools market is booming and many solutions are available. Making the right choice is essential and depends on certain prerequisites.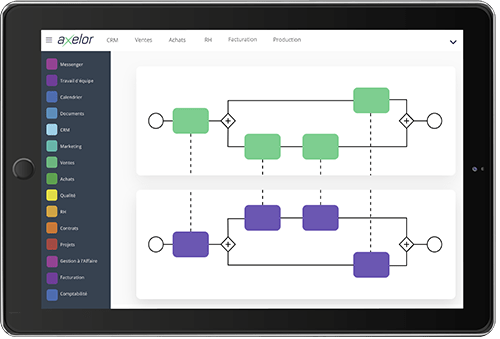 What is the purpose of BPM software?
A BPM software is most often a business process management software. It is a platform whose primary objective is to support the company in the improvement and automation of some of its processes. Users of a BPM tool will then have all the cards in hand to create the most optimized workflow possible for their company, and thus, gain in performance and quality.
The modeling of business processes and workflows is therefore the primary functionality of a BPM tool, but it is also, and above all, the improvement of these processes that will enable companies to achieve the desired result. When a company realizes that certain tasks are too repetitive and time-consuming, or that certain processes don't meet the set goals, or that employees report too many anomalies during a process, it may be a sign that it is time to invest in a BPM tool. This management software will allow you to target the source of the problem and to find concrete solutions.
Why use a BPM software?
The BPM tool is a software that can become an asset to a company. Indeed, the latter can really gain in performance and productivity simply by optimizing the processes used by its employees. This evolution is only possible if the business processes are modeled upstream, and this is precisely what the BPM tool offers. This business process management software will therefore, provide a quality solution to the problems encountered by both process users and the company at large.
Time saving, productivity gain, and improved quality of production, are all benefits of using this type of software.
What are the main features of a BPM solution?
A software dedicated to Business Process Management gathers several functionalities which will allow its users to carry out modeling and optimization of processes. These include, for example:
an intuitive modeler that connects activities, decisions, and events in a single process;

turnkey modules;

a cloud and full web solution;

a cloud and full web solution;

reporting tools and much more depending on the solution chosen
It is important to look at the features of your software before making a choice to ensure that you have all the options you require.

The essential criteria for choosing a BPM tool
In order to not lose the competitive advantage of a BPM tool, ensure that the chosen solution allows the creation of user forms in a dynamic way, using simple configuration without the need for coding. Modeling business processes in a few clicks is advantageous, however, it is important to ensure that building and evolving user interfaces later on does not become tedious and time-consuming.
The notion of BPMN is not necessarily clear and obvious, yet it is an essential criterion for choosing a BPM solution. BPMN is a standard that guarantees a unified, standardized, graphical, and above all explicit modeling language for both technical and business actors. It is necessary to consider this point to ensure the tool you choose meets all necessary requirements.
Furthermore, it is essential that the BPM tool integrates reporting: it is not only about modeling processes, but also about identifying bottlenecks and optimizing them.
From this comes the fact that the chosen software must offer a great flexibility of configuration. This way, you can adapt your processes to the evolution of your activity in real time, based on data from the integrated management tools.
Another important aspect is the integration with the existing system. Your specific processes will be more efficient if they communicate seamlessly with existing databases and standard processes.
Finally, look for a business process management solution that can easily connect to the various applications used within your organization.
Optional criteria for choosing a BPM solution
Ideally, choose a BPM solution that already offers a base of standard processes that you can build on.
Opt for mobility and choose a responsive solution. Thus, the management of your activity is possible from everywhere and on all supports.
Choose a BPM software that is easy to use and open to the outside world: for successful change management, there is nothing like a tool with a pleasant and intuitive user interface. Collaboration being the key to success, opting for a collaborative BPM tool is a real plus: offer each of your users a personalized interface and a clear vision of their objectives, share data in complete security, and offer your customers and suppliers a dedicated space.
The benefits of a BPM tool
The positive impacts of the implementation of a BPM tool can be measured mainly on 3 levels:
organization,

communication,

business process management.
Thanks to a low-code BPM solution, improve cohesion within your company: give your employees a global vision of the organization, involve them in the decisive choices, and save them time by automating iterative tasks.
A BPM software also allows you to promote collaboration and communication between teams, encourage information sharing and limit the risk of error as the activity is marked out by logical and well thought-out business processes.
The management of your processes is an excellent growth lever, a BPM tool allows you to monitor your performance graphically and in real time. It also enables you to measure the achievement of your objectives, avoid malfunctions, and gain reactivity in decision making and validation cycles.
A business process management solution is also essential in the continuous improvement process of the company. Your business processes are alive, they must evolve and above all be regularly questioned in terms of efficiency. The BPM tool allows this through its reporting aspect.
The BPM tool facilitates digitalization by automating processes and dematerializing information flows. Your productivity depends on optimal management of your business processes, and opting for BPM software guarantees quantifiable results and an excellent return on investment. So it's time to start looking for the right solution for your organization!