What is an
Enterprise Resource Planning

(ERP) system? Everything you need to know
In terms of pure definition, an ERP is a data management solution that integrates and consolidates the company's information within its information system. An ERP integrates all the functions of the company for better management and information sharing. The modules group together the different services and have different fields of application: CRM, stock management, product management, accounting, HR module, and more.
What are the benefits and limitations of an enterprise resource planning system?
An ERP package can quickly become the real foundation of the company's IT management, thanks to its information centralization function. The benefits of an ERP system are numerous, including time savings in daily operations. Installing the ERP system will simplify the understanding and sharing of interdepartmental data by consolidating it into the system.
Centralization of information
The ERP is the best element to manage all the company's data. The software brings together all the information and functions in a single tool, making it a single working intermediary to dispose of all resources. ERP is a multi-tasking and multi-functional tool. Interdepartmental tools such as reporting tools are available and can be used by any employee. The integration of an ERP software package allows you to bypass the heavy administrative constraints, for example, of centralizing licenses, by grouping everything together. An enterprise resource planning system gives access to several functionalities and company services, thus, simplifying the management and the general organization.
Adaptability
ERP software adapts to changing situations and promotes reactivity in the organization and management of the company, especially when it comes to dealing with the unexpected. ERP software enables the automatic organization of tasks which leaves freedom to manage other processes.
Anticipation
Thanks to its tools and intuitive workflow, the ERP allows you to have an overall vision of the company tasks and services. ERP are software tools for optimization, they promote planning, give real-time updates on all employee tasks, and provide complete control through insights on all internal processes. It is therefore, the computer tool to be favored when it comes to avoiding errors and moving towards a well-managed work organization.
Automation
ERP systems also enable the automation of certain tasks, reinforced in particular by BPM functions. Axelor has a natively integrated BPM software. The advantage of automation is that it allows you to spend less time on repetitive tasks, while limiting certain human errors, and improving the employee and customer experience.
Dematerialization
The dematerialization of work tools with an ERP system limits the costs for companies on material goods and work tools as it requires less material resources. Projects generate fewer costs because they are less resource intensive. The dematerialized workspace requires less presence, which implies a system with more personal freedom and the possibility of access to better management and general organization.
Communication
ERP systems facilitate access to company data, manage employee tasks, and provide communication tools. With simplified access to resources, employees have better communication throughout their departments, with more effective tools for relaying information.
Connection
In addition to the information and systems managed by the ERP, it is possible to connect the ERP to a set of applications and external devices in order to diversify the work and have more functionalities. This makes it possible to multiply the possibilities, while keeping certain work habits.
Data security
Data security is a key issue to protect sensitive data. This protection is one of the benefits of ERP management tools. The data is not corruptible, ERP system has a data security that allows it to remain protected.
Savings
The most important thing is the ROI of the ERP software. Indeed, the return on investment is fast. During the realization of the specifications, you will have been able to analyze the needs and the benefits sought by the integration of your ERP. At this stage, a first overview of the ROI appears, as well as the costs and benefits in the organization.
How to get around the limitations of an ERP system and what are they?
Lack of flexibility:
An ERP can sometimes be a rigid or unintuitive computer system with limited functionality. It is interesting to choose an ERP according to its concrete needs, i.e. its modules or its deployment mode. All the functions of the ERP must be studied in relation to the company's activities, in a clear specification, with precise and reliable data.To achieve a successful specification, here are the tracks!
A classic ERP is criticized for its lack of flexibility and adaptability. A Low-code ERP with a BPM will be able to bypass these limitations and propose alternative solutions to provide more agility in the processes.
Complex to handle:

Another limitation may be the complexity of handling and not being intuitive enough. The support of the publisher's partner will help considerably for this step, but the choice of the type of platform also changes the conditions. For example, a Low-code/No-code ERP like Axelor is a simpler solution to get started with because the development parts are already supported.
Complex to set up:

A tedious or even expensive implementation is a barrier to the desire to implement an ERP system. The key to solving this obstacle is forward thinking! To overcome the various problems of a difficult implementation, there is nothing like thinking upstream about a solution adapted to your concrete functional needs. Concerning the financial aspect, thinking about ROI allows you to put the costs into perspective, see if working with an ERP system is actually possible and effectively gauge the return on investment.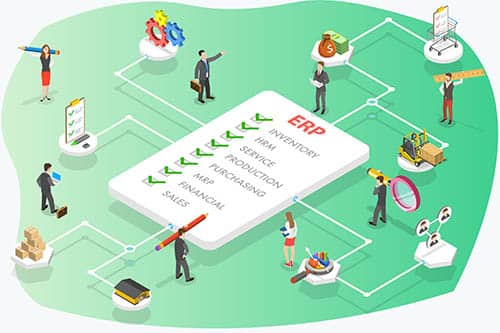 What are the differences between an ERP software solution and a CRM?
Definition and use of CRM :
CRM is a software tool dedicated to customer relationship management. By definition, CRM specializes in the complete management of the commercial cycle. Software with CRM supports companies in prospecting, loyalty, follow-up of prospects, offers, and sales. The CRM is developed around the customer management axis, its functionalities do not extend beyond the commercial cycle.
ERP, CRM, and much more:
ERP software allows as much commercial management of the sales cycle and customers as the management of stocks, products, human resources, or accounting to optimize costs. ERP has a broader coverage of activities, which may be less specific, but more versatile. ERP systems provide a follow-up of the commercial prospect and allow it to link it to other activities and trades of the company, such as human resources management, production, etc.
ERP, a more complete tool for the management of the company:
In the perspective of more extensive services and a global management of the company's services, ERPsystems are more adapted and allow access to a CRM in addition to other management modules.
What type of ERP solution should I choose: a specialized or general-purpose ERP?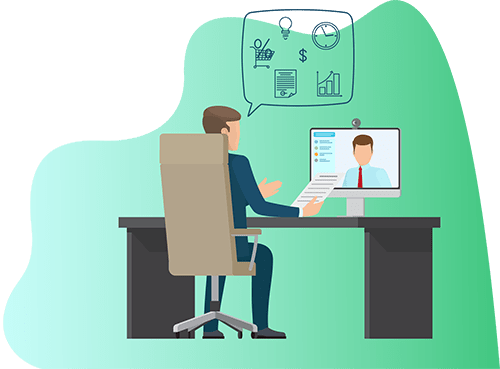 Choosing a horizontal or vertical ERP depends mainly on the core business and the needs of the company. Horizontal ERP systems are generalist and divided into various modules to take into account multiple functions and services (HR, purchasing, accounting, production, and more). When a business is very specific, a vertical ERP will be particularly adapted, thanks to more targeted and precise modules. There are specialized ERP in specific fields: the industrial sector (to optimize production, management, and planning of stocks, resources, products, etc.), the distribution sector, or even the public sector. For a mixed or even multidisciplinary activity, a generalist ERP offers an all-in-one solution for more complete management.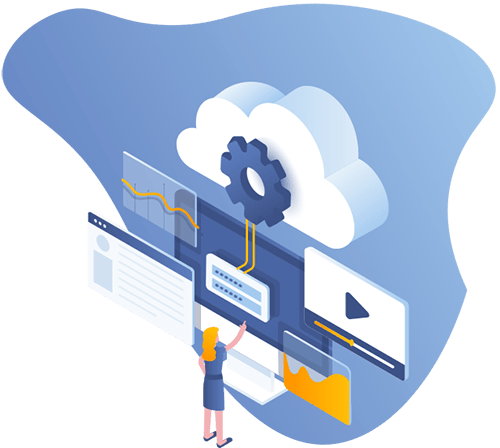 Which storage system is best for an ERP?
Several solutions exist to guarantee the security of your ERP data and to host them internally on the company's servers or on dedicated servers.
On-premise :
The company installs and hosts the ERP on its own servers.
Cloud :
Public / Private cloud: in both cases, hosting is done remotely. In the public cloud, hosting is done on third-party, shared servers, while a private cloud ERP has dedicated servers.
Hybrid ERP :
Hybrid ERP allows for mixed storage between Cloud and On premise. It combines in-house data storage on the company's servers with data hosted in the cloud.
What are the benefits of choosing Axelor ERP?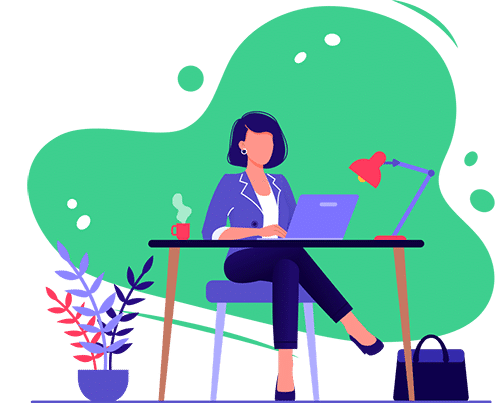 The modularity
Some ERPs have specialized in professional areas while others are expanding their services to cater to a wider range of businesses. Axelor's modularity can correspond to companies looking for an ERP with generalist solutions, as well as those requiring specialized ERP solutions. With its customizable modules, the Open Source ERP develops a diversity of functions to access a customized offer. This diversifies the offers and adapts them to the different sectors. Industrialists won't have the same needs as local authorities, for example. They can each select and adapt the modules, then develop them according to specific issues and areas such as planning, inventory management, production, customer management, etc.
A Low-code BPM to optimize performance
After identifying the business processes, the IT teams model them in the company's ERP. The modeling of a business process allows users to summarize the key steps in order to produce the expected products in time with flexibility and reactivity. We have the possibility to intervene in real time on the processes and to re-optimize them. In order to be successful in the long term, the company will need to evolve its processes regularly. The process modelling and automation tool brings greater customer satisfaction, as it allows for greater efficiency in daily operations. Low-code business process modelling provides additional flexibility in tasks and automation in the ERP. Axelor ERP has developed its BPM in Low-code/No-code, for greater user comfort. The benefits of BPM are visible in the company by allowing it to manage complex systems with a significant ROI, a reduction in costs, and an improvement in the customer experience.
Scalability
Scalability is the guarantee of flexibility and performance which allows good handling. Axelor ERP is scalable by adapting in real time to variations in the number of users. It becomes possible to scale from a reduced scope to global use for thousands of users.
APEX chose Axelor for its modularity to dematerialize its processes
APEX Energies is a green energy provider that has experienced significant growth in recent years. Each year, the company doubles its turnover thanks to the creation and operation of photovoltaic power plants for more than 7000 customers in France. APEX chooses Axelor's Low-code ERP to make its digital transformation. Their goal was to acquire an open-source ERP system that would allow them to create and adjust their solution to perfectly match their business needs while supporting them in their ongoing expansion.
Appreciating the modularity of Axelor, Goulven Jorand, IT Manager at APEX, testifies:
"Initially, we had planned to develop a single module for management and purchasing. Then we quickly realized that other departments in the company were also looking for an automated solution. Thus, we expanded the scope of our needs and the choice of Axelor was obvious, both for its flexibility, ease of use and deployment, and its comprehensive library of modules."

Join us on WhatsApp

Functionnal documentation

Partner's Program

Free Online Demo